Nationally Determined Parameters (35)
Eurocode 2 part 2: Design of concrete bridge structures
All NDPs of this EN Eurocode are listed below. Each NDP is presented with a specific title, a reference clause, an eventual introduction, recommended values by the EN Eurocode and some values chosen by country. (1)
The available National Annexes are:
United Kingdom - BS
Denmark - DK
France - NF
Switzerland - SN
Sweden - SS
Other countries will be continually added.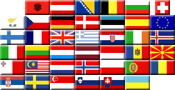 List of NDPs
---
(1) By respecting the fair use of standards for training purposes, the values chosen by country will not be in complete detail for commercialized National Annexes. In this case, please refer to the original standard to have more information.